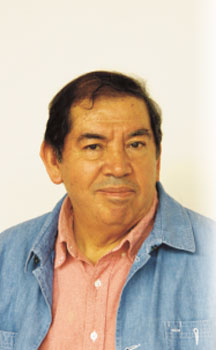 Guillermo Ceniceros
He was born in El Salto, Pueblo Nuevo, Durango, Mexico, in 1939. In 1995, he joined the Visual Arts workshop of the University of Nuevo León. In 1973 he was invited to the Encuentro de Pintores Latinoamericanos of Cuba. In 1978, along with Esther González, he was invited to the People's Republic of China to visit 13 cities and meet artists of painting, film, opera, and music. In 1979 he assisted to the Colonia de Pintores of Prilep, a monastery in the Republic of Macedonia and made a painting for the museum.
In 1989 he exposed his work and gave lectures in Lima and Arequipa, Peru, he was invited to the Integración Cultural Latinoamericano Council. In 1991 he was nominated for the Mundial de Arte Prize for his Del Códice al Mural and Perfil Del Tiempo murals.
Guillermo Ceniceros has presented a myriad of individual expositions throughout the world. His career has earned him much recognition, naming notable ones: the Nacional de Pintura Prize, given by the Secretary of Public Education in 1969, the Mérito Cívico Medal in 1999. In 2009 the exposition "Guillermo Ceniceros" exposition is held for him, and the presentation of the book "Guillermo Ceniceros: Setenta Años" in the Picture Gallery of Nuevo León.
The mural artwork of Ceniceros, a master of Mexican painting, is extensive. It includes the following large-format murals, located in public spaces.
1980, Signos en Colisión. Center of Modern Arts, Guadalajara, Jalisco.
1984, Leaflet for the Mission of Mexico before the United Nations, New York, E.U.A.
1986, Del Códice al Mural, Tacubaya Subway Station, Mexico City.
1986, Los antiguos Mexicanos, World Exhibition of Communications 86, Vancouver, Canada; nowadays in the Airport of Monterrey, Nuevo León.
1988, El perfil del tiempo, 1000 mts2 (10,763 ft²), Copilco Subway Station, Mexico City.
1989, Invocación al Equilibrio, 500 mts2 (5381 ft²), Chemical Sciences School, Autonomous University of Nuevo León.
1990, Espejos Comunicantes, Unidad Mederos Theater, Autonomous University of Nuevo León.