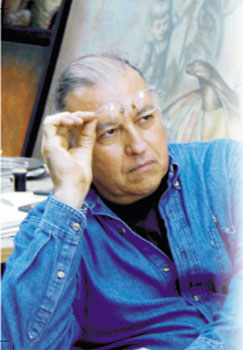 Sergio Villarreal Uribe
He was born in Monterrey in 1948. He studied in the Plastic Arts workshop of the Autonomous University of Nuevo León. He took part in the workshop of teacher José Luis Cuevas and was granted graduates at the Art Students League of New York and the National Academy of Design of New York.
His work is presented in important collections at various cities of the United States, Cuba, Dominican Republic, Malaysia, and Mexico. Additionally, he worked as an assessor of the Culture, Education, and Sports Ministry of Monterrey. He is a member of the Círculo Pro-Arte Group.
He has participated in more than a hundred national and international exhibitions in cultural venues, noting: Hospicio Cabañas, in Guadalajara: International Artexpo of New York; Metropolitan Museum of Monterrey; Cultural Center Plaza Fátima in Monterrey, and the University Library "Raúl Rangel Frías" of the Autonomous University of Nuevo León. He obtained honorific mentions at the "Reseña de la Plástica Nuevoleonesa" and the Picture Gallery of Nuevo León. In 1995 he was granted the first place at the Salón de Noviembre en Arte, A.C.