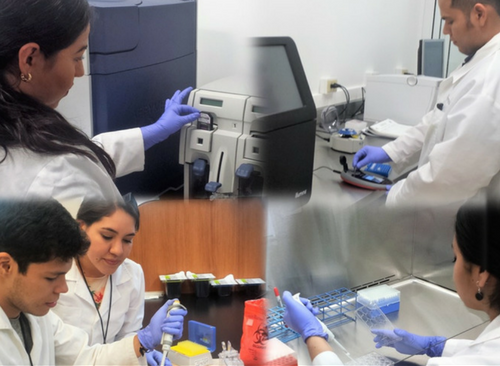 This unit is designed for the development of new knowledge, products, and services concerning genomics, molecular biology, proteomics, and cellular biology implementing innovative technologies in an ethical and amicable environment of the highest quality for health, pharmaceutical and agro-food industries, aiming to be a leader on development based in nucleic acids and protein research.
This unit has Next-Generation Sequencing (NGS) platforms, nucleic acid microarray, Proteomics, real time PCR and cell culture. In addition, this unit has the appropriate facilities to perform molecular diagnosis in health, agronomy, veterinary, and biotechnology areas. The unit can offer and provide training to other research centers and/or researchers in genomic tools appliance.
In recent years, Genomics Unit has implemented an ensemble of research on preclinic methods (cell and mice) to help valuate DL50, toxicity, and the functional effects of certain molecules with clinical appliance.