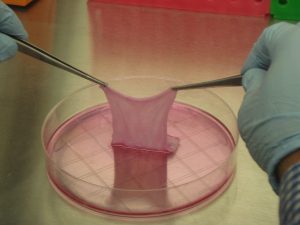 The Tissue Engineering Unit is focused on the establishment of in vitro human cell lines for bio-engineering and tissue/organ design with therapeutic purposes.
Its main objectives are:
The implementation and operation of a technological platform for the
development of protocols and/or products through in vitro growth and
culture of human cells with the aim of establishing different protocols of
clinic appliance for the treatment of degenerative conditions. (Cell therapy)
Research and development of in vitro organs through bio-engineering, bio-
design and tissue engineering via the use of technological platforms in
culture and growth of human cells.
 Founding of a cell bank of mesenchymal stem cells (MSC) for donation,
with the purpose of conducting clinical essays through the implementations
and transplant of MSC.
To strengthen the research and education system of the Autonomous
University of Nuevo León, founding new bio-medical research areas in the
field of Regenerative Medicine and Tissue Engineering.