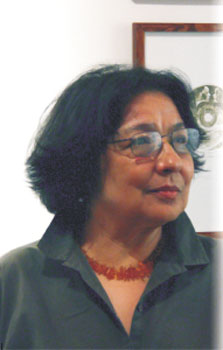 Esther González
Born in Tampico, Tamaulipas, she studied at the Visual Arts School of the Autonomous University of Nuevo León. Since 1970, she has exhibited her artwork in important art galleries of Mexico, Cuba, Italy, Switzerland, Chile, United States, Holland, Venezuela, India, and Australia.
She has participated on important Bieneles Prizes celebrated on distinct cultural venues of Mexico, Yugoslavia, Puerto Rico, Poland, and has presented individual expositions at the Mexican Art Museum, Roma, Buenos Aires, Sydney, Washington, and Philadelphia; in Mexico at Guadalajara, Guanajuato, Durango (Guillermo Ceniceros Museum), and Monterrey (Art Gallery A.C.)
During her artistic career, she has received important distinctions: The Plástica Mexicana Prize Engraving (1971), Second Prize at the "El árbol y el bosque" exposition of the Fine Arts National Institution (1978), Painting Prize of the Hall of Mexican Fine Arts (1985), Drawing Prize of the Hall of Mexican Fine Arts (1988), Painting Prize Arte A.C. in Monterrey (1991), and, shared with Guillermo Ceniceros, the Mazatlán Prize (1991).