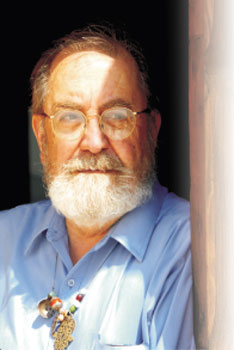 Gerardo Cantú
He was born in Nueva Rosita, Coahuila in 1934. He started his studies at the Plastic Arts workshop of the University of Nuevo León and continued at the National Painting School of Fine Arts "La Esmeralda" in Mexico City. He received a scholarship to study in Prague, where he lived for three years.  He then moved to Paris and traveled different countries of the European continent.
He worked as a teacher in the Plastic Arts workshop of the Autonomous University of Nuevo León and worked as a professor in Painting and Drawing at the Painting and Sculpture School of the National Fine Arts Institute. He was Director of the Plastic Arts School of the Nuevo León Culture Institute, and Experimentation Workshop.
He made important mural works, such as: "El Oro Negro o Retrato de una Sociedad", at the Colegio Civil UANL and at the the Forum Internacional de la culturas Monterrey 2007 he made for the Paseo Santa Lucía: "Beso Robado", "Carrera de Obstáculos", and "De dónde venimos", Qué somos y a dónde vamos", amongst others.