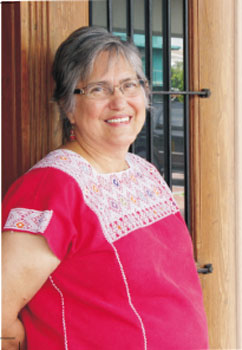 Saskia Juárez
She was born in Monterrey city in 1943. Her first painting studies were at the Plastic Arts workshop of the University of Nuevo León, between 1958 and 1961. Said University grants her a scholarship to continue her studies in Mexico City on the then San Carlos Academy or the National Plastic Arts School of the Autonomous University of Mexico for the degree in Plastic Arts Teacher, finishing it in 1967. During this period she partakes in collective exhibitions of the OPIC and gets a batch of engravings to exhibit in South America and the United States. In 1965, the OPIC send her to Santiago de Chile as an assistant of painter Juan O'Gorman, in the making of a mural.
That same year she returns to Monterrey and takes part in the Plastic Arts workshop as an engraving and painting teacher, and she becomes interested in the landscape regions of the Nuevo León State, where she takes a recurrent theme in her work to this day.
She was a teacher of the Visual Arts School of the Autonomous University of Nuevo León for more than 30 years. The Autonomous University of Nuevo León granted her the University Arts Prize in the area of Plastic Arts, 1987.