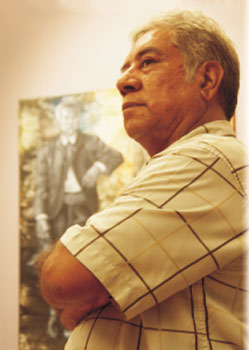 Esteban Ramos
Born in the State of Nuevo León, he studied in the Visual Arts Workshop of the University of Nuevo León (Now Autonomous University of Nuevo León), where he is granted a scholarship to study on the Escuela Nacional de Pintura y Escultura La Esmeralda (Nacional School of Sculpture and Painting "La Esmeralda") in Mexico City.
Along his career, he received many distinctions: honorific distinction in the VII Encuentro de la Plástica at the Centro Cultural Plaza Fátima; he was selected to take part in the Frida Kahlo's life and artwork exposition at the Picture Gallery of Nuevo León and special guest at the Salón de Otoño; selected at the XVI and XVII Reseña Plástica of Nuevo León at the Casa de la Cultura of Nuevo León and at the XVII Reseña de la Plástica Nuevoleonesa of the Picture Gallery of Nuevo León, invited to participate in the homage to Federico García Lorca, performed at the Hall of that same Institution in 1998; selected for the retrospective exposition "100 años a través de 100 artistas" (A 100 years through a 100 artists) at the Monterrey Museum in 1999, and invited to take part in five editions of the Reseña de las Artes Pláticas of the Autonomous University of Nuevo León, celebrated at the Galleries of the Raúl Rangel Frías University Library.
Furthermore, he served as a teacher in the Experimentación de Artes Plásticas workshop during five years.