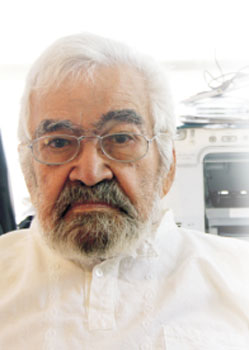 Antonio Pruneda
He was born in the municipality of Frontera in the State of Coahuila, 1928.
He was a founding student of the Plastic Arts workshop of the University of Nuevo León. In 1957 he travels to Mexico City and during his stay he studies Mexican Culture and Nahuatl Language for a year in the National Autonomous University of Mexico, as well as engraving, painting and color chemistry during 3 years at the National Painting School "La Esmeralda".
He is granted an internship to study ceramics, tapestry, and looms at the University of New York from 1962 to 1965; and drawing, painting, and paper hand manufacturing at the Accademia di Belle Arti in Florence, Italy from 1967 to 1968.
His work has been exhibited in Mexico, Brazil, the United States, Canada, France, and Italy.
Because of his career, he has received many recognitions and homages by educational and cultural Institutions. In 2005, the Metropolitan Museum of Monterrey grants him homage because of his 50 years as a painter.